Windshield Replacement
Whether you have recently experienced an accident or if smaller window damage turned into a bigger one, replacing your windshield is never under the best set of circumstances. Having your windshield replaced, however, doesn't need to be as much of a hassle as you think.
The team of automotive windshield replacement specialists at Good Look Auto Glass Services, LLC. has been installing windshields on vehicles of all kinds for years. We provide a service that is affordable, fast, and high-quality. By choosing to work with us, you are putting the future of your vehicle in reliable hands.
Windshield Glass Replacement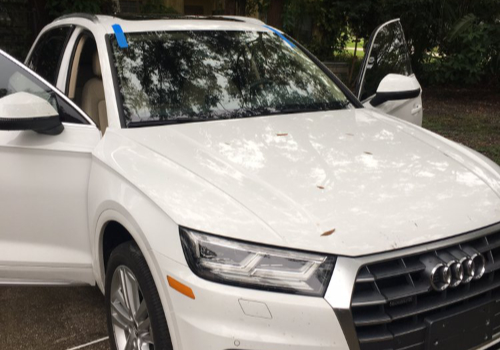 In order to give you the full and reliable results you expect, we always begin our replacement services by inspecting the damage at hand. While most large windshield damages will need to be replaced, we want to ensure that your glass is salvageable before proceeding.
We also need to take the time to survey the type of windshield in your car. Each windshield is a unique shape and size, and most modern windshields feature advanced technologies. We want to ensure that we are replacing your screen with a windshield that will be better than the last.
We will also be able to provide you with an estimate for the cost of the replacement and help you deal with any insurance claims that may be needed.
Committed to Quality
Good Look Auto Glass Services is committed to offering auto body repair solutions that are as environmentally sound as they are economical. We also offer top quality recycled "green" auto parts that help to reduce waste and save energy. From its humble beginnings years ago, we have evolved into the best locally owned and operated mobile windsield repair & replacement service around. We offer the latest technology and dedicated expertise to our loycal customers.
Auto Windshield Replacement Services
Installation and Replacement
Once we have ordered the correct windshield, it is time to get to work installing it. The windshield replacement and installation process entail:
We will begin by covering the inside and exterior of your vehicle with a protective plastic coat.
Next, we will carefully remove the windshield wipers.
We will then remove the damaged glass from the vehicle.
The new windshield will be prepared for application. It will be primed, and adhesive glue will be applied.
We are ready for the installation! The new windshield will be installed using our industry-leading tools and certified techniques.
The new windshield will be left to dry.
Once the shield is dry, the windscreen will be thoroughly cleaned and restored to the style of the original shield.
We're The Best at Auto Windshield Replacement
At Good Look Auto Glass Services, LLC., we know that a good windshield is crucial to your safety. That is why we take the time to complete every installation properly.
Each vehicle and replacement are unique and will be completed using industry-approved tools and techniques. We are constantly training our staff on the best new methods for windshield replacement to ensure you are getting the best possible care.
Schedule A FREE Estimate Today!
Locations Served
We offer the best in mobile Windshield Repair, Windshield Replacement & Auto Glass Repair in the greater Tampa Bay area including; Clearwater, Dunedin, Largo, Lithia, New Tampa, Palm Harbor, Ruskin, Saint Petersburg, Tampa & Wimauma.